The Consumer Electronics Show is a chance for 1,700 electronics manufacturers to show off their products to more than 100,000 journalists, buyers and customers. The show completely fills the Las Vegas Convention Center, the Riviera and Alexis Park Hotel Convention Centers and about a dozen huge pavilion tents covering the parking lots of the three convention centers. There is no way a single person could even hope to cover all of the show comprehensively!
Exhibits range from the small 10 ft by 10 ft booths to the enormous ones like this:
As at any trade show, there are amazing bids for attention. There's everything from a rare white tiger to this rappelling rock at the Uniden booth: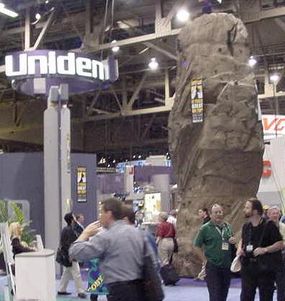 The climbing structure at the Uniden booth.
To things like this huge LCD arch at the Samsung booth:
The technology being demonstrated here is incredible. The following sections show you the highlights from many different manufacturers…