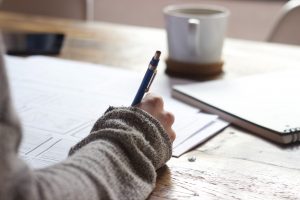 The IELTS is a test that assesses your ability to communicate in English. You must first fully grasp how the IELTS exam works in order to perform well on it. There are so many different task types and parts to the test, it's tough to complete it fast (Speaking Parts 1, 2 and 3; Writing Parts 1 and 2; and so on). Each section puts various topics to the test in different ways. As a result, there is a lot to learn and prep yourself for.
How Long Will It Take to Increase My IELTS Score?
There is a multitude of factors that can determine how quickly a person can get the IELTS results they need, and everyone's situations are different – so there is no single answer for this. However, students who are highly motivated to learn are more likely to improve their overall scores than those who are less motivated. Below, we have listed specific factors that you can improve on to raise your IELTS score.
Best Ways to Improve Your IELTS Score
Make your weakest talent the focal point of your attention. Determine what you need to work on the most – is it speaking, listening, writing, or reading? Once you've identified the skill, consider ways to develop certain aspects of that skill. Remember that if you currently have a 6.5, you may just need to improve in a few areas to get a 7. It might be answering all components of the question, improving your spelling, or broadening your vocabulary of English terms.
Choose an experienced teacher. The expertise, talents, and knowledge of your teacher with the IELTS Test will have a significant influence on the time it takes you to get the required score on the IELTS Test. Choose a qualified, experienced IELTS teacher who understands the exam inside and out.
Improve your vocabulary. Learning English is all about utilizing words as exactly as possible in the proper context. To get excellent at this, you must read a lot. The more terms you are exposed to, the greater your vocabulary will become. When you read, use a marker to underline or highlight unfamiliar terms. Attempt to comprehend the contextual meaning of these terms. You may also use a dictionary to better comprehend the meaning.
Focus on your reading skills. Reading English newspapers, books and magazines and listening to English news will introduce you to many new terms. You should practice utilizing a new term after learning it. You will be able to talk more smoothly if you utilize new terms frequently. According to studies, you will need to repeat the new term 10 to 20 times before it becomes a part of your everyday speech.
Sharpen your pronunciation and fluency skills.
The speaking ability exam is divided into three sections. They comprise organized and unstructured interviews, as well as a short discussion. You will have 4 to 5 minutes to speak on two or three issues linked to common themes.
In addition, you should be prepared to give a 2-minute discussion in the brief talk part. You will have approximately a minute to prepare for the debate. This portion will take roughly 3 to 4 minutes to complete.
Improve your writing skills. Always record words in a regular manner when studying English classes. On a card, write down the definition of the term as well as a sentence that uses the word so that you can return to it later. Furthermore, pronouncing the term loudly activates your sound-related memory. It is also useful in linking the term to words you are already familiar with.
Focus on your listening skills. You may listen to the English news every morning, or a podcast – write a script as you listen, and then examine it later. Do this every day to enhance your listening abilities.
Take a practice IELTS test. You can increase your speed and identify your weaknesses by taking a practice exam. This allows you to see where you need to improve your preparation. Not only is it critical to improve on your shortcomings, but it is also important to increase your confidence in order to maintain a strong focus during the examination.
If you are having difficulty identifying your faults, you should seek the assistance of a competent IELTS teacher. The majority of students who pass the exam with flying colors attend an IELTS preparation course. Your concentration and determination are critical in making you ready. Make sure to also familiarize yourself with the test format by analyzing the content, questions, and tasks for each section.
Interested in Other Streams That Do Not Require an IELTS Score?
Contact us at VisaPlace. All of our cases are handled by competent and experienced immigration professionals who are affiliated with VisaPlace. These professionals consist of lawyers, licensed paralegals, and consultants who work for VisaPlace Legal, an award-winning immigration firm that adheres to the highest standards of client service.
Ready for the next step? Book your 1 on 1 consultation now or call us at 1-888-317-5770.
Have a Question related to your Immigration Needs?
Fill out the FREE Immigration Assessment form and get a response within 24 hours to see if you're eligible.
The assessment form should take approximately 5-7 minutes to complete. We will get back to you within one business day to let you know if we are able to help.