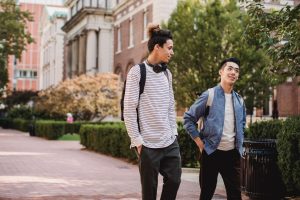 According to a survey conducted by a global student recruitment firm, Canada has emerged as the most popular destination for studying abroad among more than 21,000 students from 100 countries. The research report, known as Emerging Futures 3 by IDP Connect, indicates that Canada has surpassed Australia and the United States as the preferred choice for international students seeking higher education.
Approximately 27% of the surveyed international students selected Canada as their top choice, while Australia and the United States received 23% and 21% of the votes, respectively. The United Kingdom followed closely behind in fourth place with 18% of respondents favoring it as a study destination.
New Zealand ranked considerably lower, with only 3% of international students selecting it as their preferred destination, while Ireland received a mere 2% of the votes.
Why Is Canada a Popular Destination for International Students?
It appears that the opportunities available to international students in Canada, such as the ability to work while studying and obtain Post-Graduate Work Permits (PGWP), as well as the possibility of immigrating to Canada through programs like the Express Entry system, heavily influenced their decision to choose Canada as their desired study location.
According to the IDP Connect report, a significant percentage of students worldwide, approximately 63%, consider post-study work opportunities as a primary or influential factor in choosing their study destination. The availability of post-study work programs plays a crucial role in driving demand and attracting interest from various countries.
Immigration Minister Sean Fraser holds an optimistic outlook on the recruitment of international students, viewing them as a potential source of future immigrants to Canada and a skilled workforce that can help address the country's labor shortages. As a demonstration of this commitment, he recently announced an additional 18-month extension for foreign nationals with expired or expiring Post-Graduate Work Permits (PGWPs).
Do You Want to Study in Canada as an International Student?
If so, Contact VisaPlace today. All our cases are handled by competent and experienced immigration professionals who are affiliated with VisaPlace. These professionals consist of lawyers, licensed paralegals, and consultants who work for Niren and Associates an award-winning immigration firm that adheres to the highest standards of client service.
Ready for the next step? Book your 1 on 1 consultation now or call us at 1-888-317-5770.
Have a Question related to your Immigration Needs?
Click here to fill out the FREE Immigration Assessment form below and get a response within 24 hours to see if you're eligible.
The assessment form should take approximately 5-7 minutes to complete. We will get back to you within one business day to let you know if we are able to help.