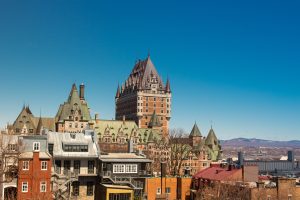 Quebec provides exclusive international tuition waivers for students coming from overseas in an effort to entice them to pursue postsecondary education in the province.
In general, tuition fees unique to international students must be paid by foreign students who enter Quebec on a study permit in order to enroll in a public college and get a degree.
These costs vary by program, but on average an overseas student may expect to pay about $17,000 in college tuition and about $24,000 in undergraduate tuition per year. Frequently, these expenses do not cover enrollment and admission fees, health insurance, or textbooks. The price of education in Quebec may consequently rise to an unaffordable level.
It is a little-known fact that Quebec provides excellent advantages to foreign students who want to study there. Some have been in place for a long time, while others have only lately been implemented. The list of student groups that qualify for exemptions from Quebec's increased tuition rates for international students studying abroad is provided below.
Exemptions From Study Fees Outside of Montreal
The most current effort, which intends to encourage the long-term settling of international students in the regions of Quebec, was announced in May 2022.
To encourage overseas students to pursue postsecondary French studies in the regions, the Quebec government has budgeted $80 million over four years.
International students who satisfy the qualifying requirements might not be required to pay the additional tuition fees that would often be charged to them. Actually, for the duration of their studies, qualified overseas students will only be required to pay the base tuition rate, which is roughly $3,000 for a full-time undergraduate student in Quebec. In order to address the labor demands of firms in the area, students will also be permitted to work up to 20 hours per week while they are enrolled in classes.
Students must attend a regional institution of higher education outside the Montreal Metropolitan Area and pursue a full-time French-language program of study in one of the priority industries, namely information technology, engineering, health and social services, education, and early childhood education.
In the fall of 2023, this regulation is anticipated to go into effect.
Exemption from Tuition for Students from France and Belgium
In addition to this program, Quebec has agreements with France and Belgium addressing the cost of tuition for francophone students from those countries who study there.
Undergraduate French and Francophone Belgian students pay the same basic tuition as Canadian students. Students from France and Belgium who are enrolled in a master's or doctoral program, as well as in a technical college or program for vocational training, pay tuition to Quebec.
Students must possess a valid passport from France or Belgium as well as a study permit that complies with Canadian immigration laws in order to be eligible. Quebec's acceptance certificate is also necessary.
Waivers from Tuition for International Students
Finally, if their nation or international organization is a signatory to a student mobility agreement, many international students are also qualified for a waiver from paying additional tuition fees. It is best to first confirm with the governmental bodies that oversee these exemptions as the selection criteria differ by nation and agreement.
The majority of the people in Quebec, a French-speaking bastion in North America, speak French. International students have a rare opportunity to experience a rich culture, have access to a globally recognized education, and interact with some of the most accomplished instructors and intellectuals in the world thanks to the province's extraordinary tuition exemptions.
Are You Interested in Studying in Quebec?
If so, Contact VisaPlace today. All our cases are handled by competent and experienced immigration professionals who are affiliated with VisaPlace. These professionals consist of lawyers, licensed paralegals, and consultants who work for Niren and Associates an award-winning immigration firm that adheres to the highest standards of client service.
Ready for the next step? Book your 1 on 1 consultation now or call us at 1-888-317-5770.
Have a Question related to your Immigration Needs?
Fill out the FREE Immigration Assessment form and get a response within 24 hours to see if you're eligible.
The assessment form should take approximately 5-7 minutes to complete. We will get back to you within one business day to let you know if we are able to help.