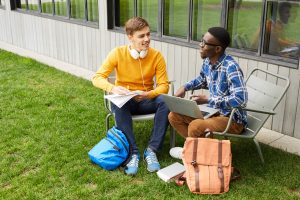 Did you know over 700,000 students are living in their home country thinking, planning, or have already started the process to become an international student in Canada? Canada has become a popular location for international students with dreams of permanent residency. Not only do students from across the world to Canada earn a degree, but it's also a direct path to your new permanent home! Oftentimes students are coming from hundreds and miles away so forgetting anything is not an option. This is a huge move for many young adults and can be daunting to some, so we decided to break down the essentials and what you should prepare before studying in Canada this coming year!
Read More: Studying in Canada
1. Get Your Passport, Plan Finances
When traveling internationally, having a passport is the number one thing you need and sometimes will take some time to process so it's important to check it off your to-do list! If you already have one, be sure that it is not expiring within the next 6 months as some counties will not allow you to enter. Bring photocopies of any other government identification that you may have like a driver's license or birth certificate.
When applying for your study permit, you will be asked to show proof that you have enough money to support your tuition and day-to-day expenses. Canada requires all international students to prove minimum funds of $10,000 CAD per year, or $833 CAD per month, with additional financial requirements if you are bringing family members with you. In the province of Quebec, you must have $11,000 CAD per year. If you are worried about covering these expenses then you should consider your work options while you study which are listed below.
Work Options for Intenational Students in Canada
Some students decide they will need to make extra income to cover day-to-day expenses while living in Canada so they search for a job. Luckily, Canada offers multiple opportunities for students to get work in Canada during and after their studies. The employment options include:
On-Campus Employment
Off-Campus Employment
Co-op Student or Intern
2. Acceptance Letter, Apply for Study Permit
After you've applied and been accepted into a school you want to attend, you will recieve a letter of acceptance which is needed to apply for your study permit. Some acceptance letters are conditional meaning they have special requirements that the applicant must follow before they can begin their classes. A common condition is completing English as a Second Language (ESL) or French as a Second Language (FSL) training.
It's time to apply for your study permit. Once you've completed the application process and hopefully been approved, you will recieve your official Canadian study permit, and is important to keep safe. Your study permit is the official document that allows you to stay in Canada and study. Canadian study permits on the average process within 3 months. The supporting documents you will need to apply for your study permit include:
acceptance letter
identification (passport)
proof of sufficent funds
3. Get Health Insurance Coverage
Having basic and extended health care coverage is a must as a student in Canada. You may have the option to get private or provincial health care depending on where you live. Provincial health insurance covers health basics but some do not cover dental care, vision care, and more specific health concerns. Private health insurance has more personalized insurance plans to cover your specific extended needs. Some universities have student health insurance programs to cover extended health care.
Available Public Provincial Health Care Coverage for International Students
Here we have gathered a list of public health insurance coverages you may apply for as an international student in Canada. If you are interested in private health care, use platforms like International Student Insurance to browse your options!
4. Plan Living Accommodations
Finding living accommodations in Canada that are affordable can sometimes be tough if you've never been. You should start planning accommodations as soon as you have been accepted into your university or college. You have a few options when it comes to finding a place to live during your studies in Canada including, on-campus housing, off-campus housing, a homestay when you stay with a family host, and more.
Popular International Student Housing Options in Canada
Renting – Private renting is a popular option for international students but can sometimes be pricey. The average cost of a suite is $400 – $1500 CAD monthly but some decide to live with other students to keep prices down. Shared accommodation in Canada is $250 – $700 CAD monthly. Your school or college might offer an off-campus housing service that will be able to provide you with affordable accommodation options that are nearby also helping you find roommates.
Dormitory – Most schools and colleges in Canada will offer students the chance to stay near or on campus. The dormitory rooms are usually furnished but minimal offering shared kitchens and bathrooms. The rooms may also be shared but will be separated by gender. The average cost of a dormitory room is around $3,000 – $7,500 CAD per school year.
Homestays – A homestay is when international students stay in a family home that welcomes the student to stay for the school year which continues to be a popular choice for international students coming to study in Canada. This begins with contacting safe Canadian families to host and welcome international students. Usually, your school will match you with families that share similar interests and offer your preference of amenities and location. Prices can vary widely depending on location, but the average cost of homestay accommodation is between $400 – $800 CAD per month.
5. Gather Documents, Bring Essentials, Bank Account
Before you head to Canada, you should try to obtain any medical records your doctor can provide you including prescriptions in case of an emergency. Some items to also through in your luggage are winter clothes, an emergency contact list, and school supplies you want to bring! Once you've arrived in Canada, it's time to set of a bank account! It's important to find a bank that supports your needs as a newcomer and student. Your university may even have a branch on-campus or nearby.
Do You Need Help With Your Study Visa Processing?
If so, Contact VisaPlace today. All our cases are handled by competent and experienced immigration professionals who are affiliated with VisaPlace. These professionals consist of lawyers, licensed paralegals, and consultants who work for VisaPlace Legal an award-winning immigration firm that adheres to the highest standards of client service.
Ready for the next step? Book your 1 on 1 consultation now or call us at 1-888-317-5770.
Have a Question related to your Immigration Needs?
Fill out the FREE Immigration Assessment form and get a response within 24 hours to see if you're eligible.
The assessment form should take approximately 5-7 minutes to complete. We will get back to you within one business day to let you know if we are able to help.